Visiting Guidelines
Respecting the Monastic Community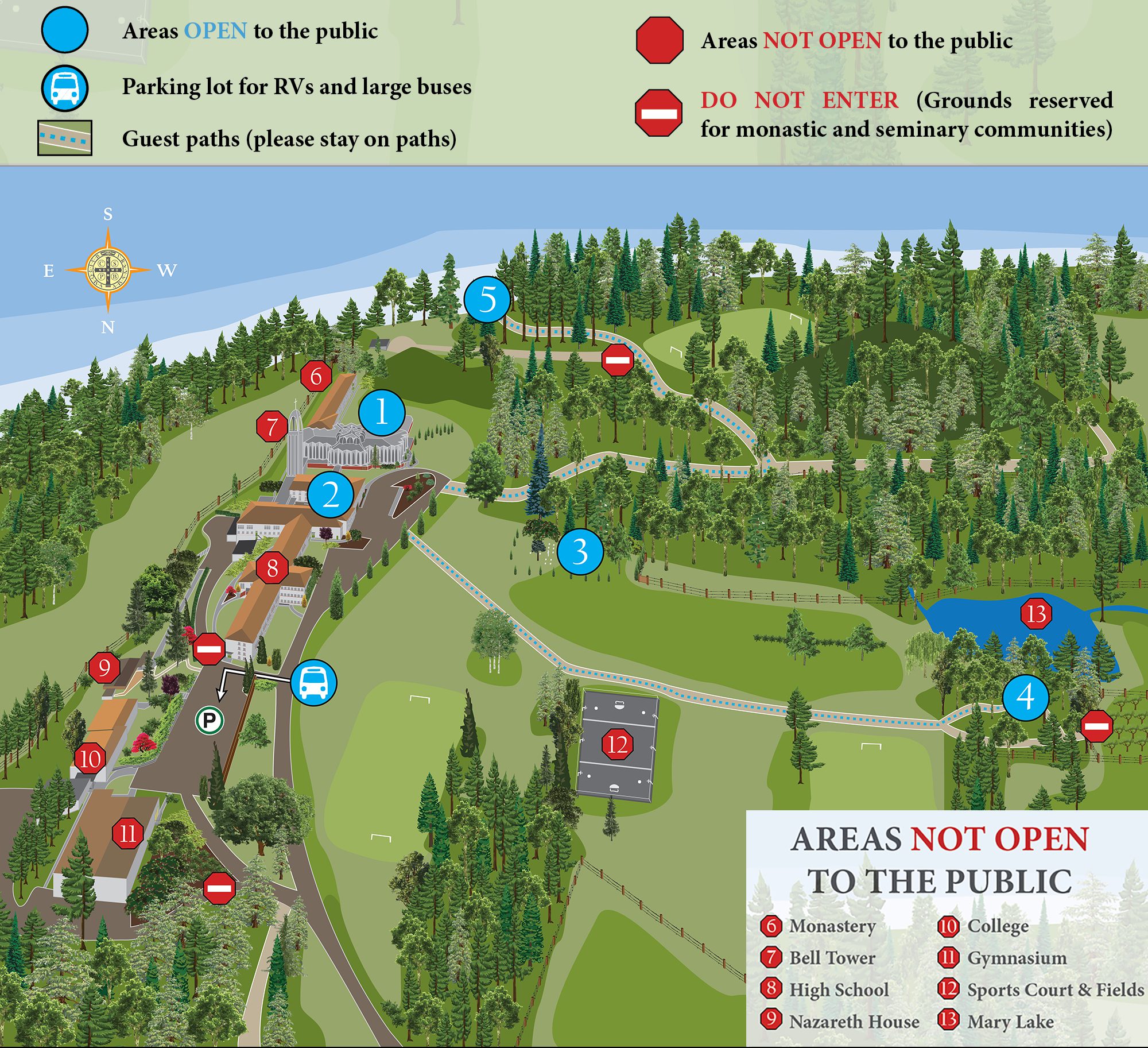 Abbey Church: Completed in 1982, the abbey church is the spiritual centre of the monastery and seminary. All are welcome to join us in lifting up our hearts to sing God's praises (See Visiting Hours).
Guesthouse: Benedictines have always cherished the ancient duty of hospitality to pilgrims, to guests, to the poor, and to members of other faiths. Christ himself is served in the person of those who come for direction or a kind word. In the busy and noisy world of today, many people seek peace and a place of quiet where they can get in touch with God. The guesthouse provides limited accommodations for overnight guests, including groups (men and/or women) and individual men. To inquire about a stay, call 604-826-8975 or email info@westminsterabbey.ca.
Abbey Cemetery: Keep death daily before your eyes, writes St. Benedict in his Rule. All are invited to respectfully visit and pray for the deceased.
Mary Shrine: Built in 1968, the shrine, sheltered in a grove of maple trees by Mary Lake, is dedicated to the Blessed Virgin Mary. All are welcome to venerate her here.
Viewpoint: From this vista, one looks south over the majestic Fraser River toward Abbotsford and beyond to Mt. Baker in Washington State.
Useful Information for Visitors
Westminster Abbey is private property and not a public park. Striving to create a sacred environment of peace and prayer the monastic community recommends other scenic locations for recreational opportunities that cannot be met at the Abbey (i.e. dog walking, picnicking, group and wedding photography etc.). These locations are: Heritage Park, Rolley Lake Provincial Park, Hayward Lake, Matsqui Trail Regional Park, Harrison Lake, Kilby Provincial Park, Stave Lake and Golden Ears Provincial Park .