Westminster Abbey was founded in Ladner, BC from Mount Angel, a Benedictine abbey in Oregon. In 1939 the five original founding members of the monastery came not only to begin a new centre of monastic life but also to take over the teaching and administration of the diocesan seminary, then located in Ladner. Westminster Priory became independent in 1948 and in 1953 was raised to the status of an abbey. Westminster Abbey was established at its present site in 1954 after its temporary locations in Ladner and Burnaby.
1939
Benedictines from Mount Angel Abbey found monastery and take over direction of the Seminary; Fr Eugene Medved osb, Rector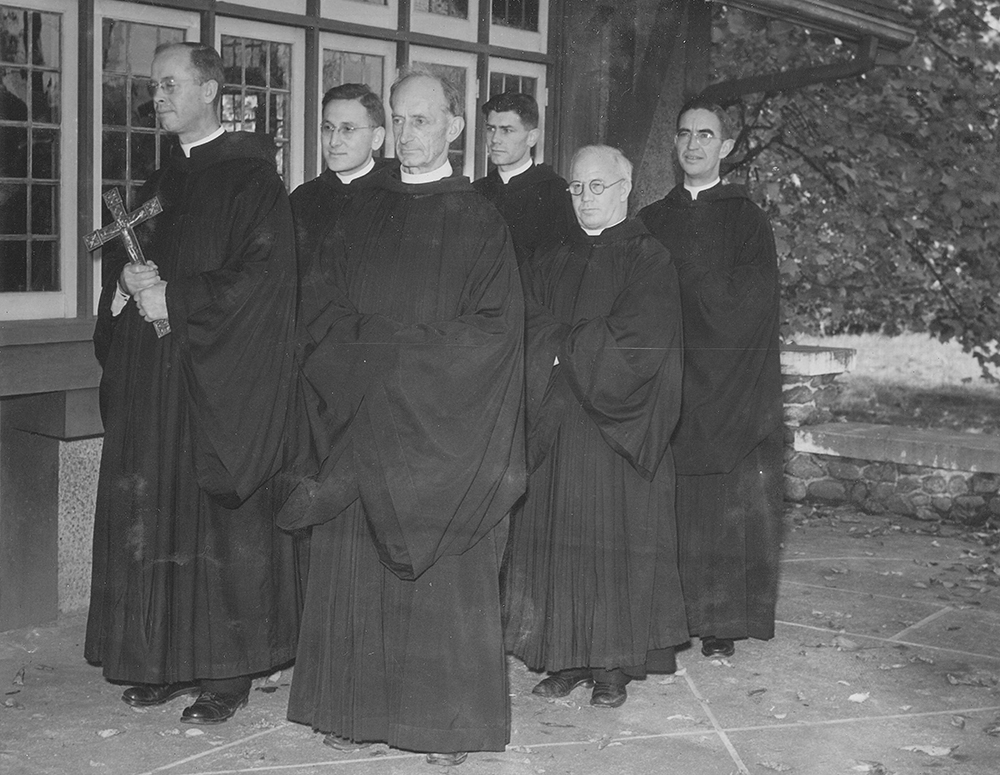 1944
The first Prior, Father Cyril Lebold osb, returns to Mount Angel; Father Eugene  Medved osb, Prior; Fr Luke Eberle osb, Rector
1949
Contract between the Abbey and the Archdiocese of Vancouver to operate both Major & Minor Seminaries
1951
Theology added to curriculum of Seminary
1953
Elevation to Abbey – Election of first Abbot, Father Eugene Medved osb
1954
Abbey and Seminary moved to Mission BC on Christmas Eve
1957
Silver Jubilee celebrated; Minor Seminary wing completed and blessed; Bell tower construction
1965
Vatican II concludes; changes made to seminary curriculum, life and discipline; start of concelebration, Mass in the vernacular
1966
Seminary receives provincial charter for granting B.A. & Theology degrees
1967
Divine Office in English; Brothers come into choir
1977
Completion of gymnasium-auditorium
1980
1500th anniversary of the birth of St. Benedict
1981
50th anniversary of Seminary
1982
Dedication of abbey church by Cardinal Basil Hume osb
1987
Completion of Major Seminary residence
1992
Fr Maurus Macrae osb elected as 2nd Abbot
2003
Completion of new sports court
2005
Fr John Braganza osb elected as 3rd Abbot
2014
75th anniversary of abbey's foundation
2017
Renewal of the Contract with the Archdiocese of Vancouver to continue priestly formation
2018
Spirituality Year inaugurated in September (First of nine years of priestly formation in the Major Seminary).