Origin, Identity, & Mission
Since the Middle Ages, it has been common for soldiers and nobility to identify themselves with symbols and emblems on seals, banners, shields, and surcoats. From this eventually developed the science of heraldry.
Both civic and ecclesiastical heraldry follow the same rules with regard to the composition and definition of a shield. But what is distinctive about ecclesiastical heraldry is the religious motifs which adorn it. In drawing up his coat of arms, Father Abbot John Braganza osb selected from the wealth of available symbols to show forth his particular origin, identity, and mission. A description of his coat-of-arms follows.
Designed by Abbot John Braganaza osb
Colours: 

Blue (azure) represents the Church and the Blessed Virgin Mary. United to them we journey towards the Cross and eternal life. Gold (or) represents the liturgical life of the Church and the monastery. Celebrating the Work of God, the monk is united to the glorious mysteries of his Catholic faith.
Two sets of tri-mount dividing the shield: 

represent the physical origins of the Abbot. He came from the Himalayan mountains of India to the Coastal mountains of British Columbia. The trinitarian life of the Church in India is the same as that in British Columbia.
Pacific Dogwood blossom:

the three dogwood flowers symbolize the roots of the monastic foundation both in the Trinity and in the Canadian province of British Columbia. 

The Pacific Dogwood is the floral emblem of the British Columbia.
Tri-mount and cross: 

The three purple mounts in the lower half of the shield represent the monastery, a community rooted in time, brought into existence by the grace of the Father, the Son and the Holy Spirit. Sharing in the Passion of Christ (purple) we are conformed to the glory of the Cross and eternal life, assisted by the Most Blessed Virgin and the Church. The Cross is a Benedictine Cross, representing both the balance of life in the Rule of St. Benedict and the glory of the Cross toward which we tend.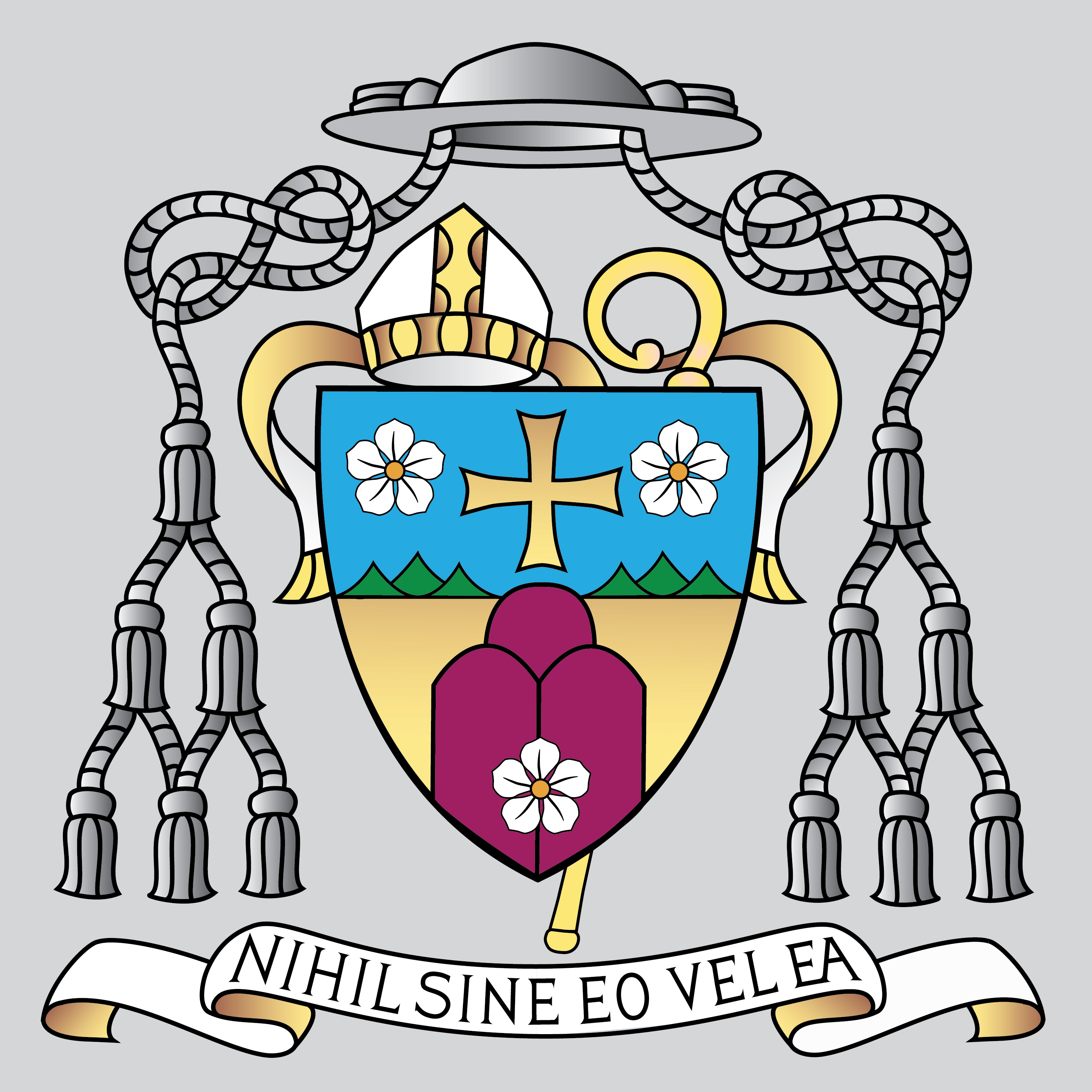 Motto: 

Though not found verbatim in the Scriptures, the words on the scroll are inspired by the first chapter of the letter to the Ephesians: nothing without Him (the Trinity or Jesus Christ) and nothing without Her (the Church and the Blessed Virgin Mary). The Abbot leads others by drawing on his own union with God and the Church.